Discover more from Words I Mannyfest
Informative & insightful postings about how Hip Hop music and culture can uplift humanity. Side orders of social justice, journalism and podcasting.
Over 1,000 subscribers
Parents Just Don't Understand
How Hip Hop can help strengthen our relationships with our kids + news bites + upcoming events of interest
QUICKIES
🏢 Museum of Design Atlanta presents "Close to the Edge: The Birth of Hip-Hop Architecture" exhibition (anyone wanna go with me?)… 📖 New Book: "ILLMATIC CONSEQUENCES: The Clapback to Opponents of 'Critical Race Theory'… 📻 How The Pause Tape Changed the Rap Game… 🪧Missy Elliot Boulevard… 🎶 DJ Perly, the First Woman to Win Two U.S. DMC Turntablism Championships… 🎧 Manny Faces on the "Serious Rap Sh*t" podcast…
EVENTS
🏦 Minnesota Hip Hop and Education Summit at St. Cloud State University… ⚖️ TWO rap -lyrics-as-evidence events: Narrating Rap / Narrating Law at UVA and The Rap on Trial Symposium at Dillard University… 🎶 An Orchestral Tribute to the Notorious B.I.G. at Lincoln Center… 📕NYC book launch event for "Ride or Die: A Feminist Manifesto for the Well-Being of Black Women"
SEND YOUR NEWS ITEMS AND EVENT INFO TO manny@mannyfaces.com
Later in this newsletter, "Parents Just Don't Understand: How Hip Hop Can Help Strengthen Our Relationships With Our Children"
Words I Mannyfest is a newsletter highlighting the ways Hip Hop music and culture are uplifting humanity. Subscribe for free or become a paid supporter today.
---
FROM THE E-DESK OF MANNY FACES
Hello again to friends, neighbors, supporters and haters. I've been churning out incredible, award-winning social justice and Hip Hop oriented podcasts, and traveling the country speaking on the amazing ways Hip Hop music and culture are being used to uplift so many aspects of humanity, but I finally got another newsletter edition out. A few brief thoughts before my thoughts on parenting through a Hip Hop-friendly lens.
Thanks to the Chattanooga Hip Hop Week and Summit. I attended their Family Day festivities with the world famous #BabyGirlFaces and then gave a keynote talk at their partner/sponsor luncheon. There are a lot of innovative things happening in the 423, and it was incredibly inspiring to see how much community and city interest there is in making sure Hip Hop has a seat at that table. Plus it's a cool town, so take a trip there if you haven't!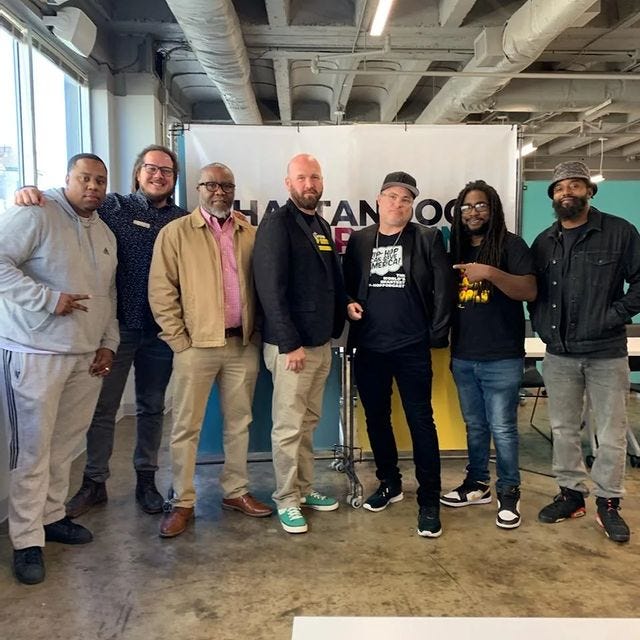 Shouts also to Texas State University's #CREATELAB for inviting me to speak to kick off a very cool event, "THE SCIENCE OF HIP HOP: Exploring STEM/CS through BEATS and LYRICS," which led High School students through a gauntlet of science and technology exhibits showcasing the past, present and future connections between STEM and Hip Hop.
A post shared by Young Women In Bio-Texas (
@ywibtexas
)
Remember, if you like the content here, you'll like the Hip-Hop Can Save America! podcast - Listen and subscribe for free at www.hiphopcansaveamerica.com
If you REALLY like the content here (and there), and if you are able, please consider helping support this truly independent Hip Hop advocacy journalism at www.patreon.com/mannyfaces
Lastly, if you REALLLLLLYYYYYY like this kind of content, and want me to come and speak on it in person, please find out more about what I do and contact me at www.mannyfaces.com
---
Parents Just Don't Understand
How Hip Hop can help strengthen our relationships with our children
OK. Show of e-hands, how many of you have children under the age of, say, 21?
[Scans raised e-hands]
Ok, keep those e-hands up. How many have a position of some authority over young children or teenagers?
[Looks around]
Ok great, you can put your e-hands down. 
So, I often discuss pop culture happenings with my assortment of children — #BabyGirlFaces and the grown ones — me with my cursory-but-not-totally-ignorant knowledge of everyday goings on and they with their good-upbringing-that-allows-them-to-speak-intelligently-about-such-things personas.
My oldest son and I recently got to talking about the BET Music Awards kerfuffle, in which Latto won song of the year for "Big (D*ck) Energy," considered by some to be an upset win over Kodak Black's "Super Gremlin."
(I recognize that for some, that sentence makes very little sense. If that is you, just stay with me for a sec.)
Some quick context:
I know who Latto is. I have a cursory knowledge of her music. I am mainly neutral in my opinion.

I know who Kodak Black is. I've heard a few of his songs. I don't care for his particular style of rapping. I also think he has proven to be somewhat problematic as a human being. I am being very polite and diplomatic when I say these things.

I don't really care too much about these award shows – but I do pay enough attention to maintain a general understanding of the mainstream music landscape.
None of this – nor how you feel about any of these people – matters. What happened next does.
I was trying to understand why my son also felt that Kodak Black should have won. In his opinion, despite "Big Energy"'s very impressive run on the Billboard Top 10 charts, "Super Gremlin" was extremely popular, a song you'd hear bumping from cars, on radio, as well as in the club. In his view, Latto's win was merely the result of the music industry – and rap in particular – once again giving higher priority to the "sex sells" aesthetic, rather than the more thuggish, ruggish Kodak.
A good point, I countered. Still, I posited, factors like the aforementioned Billboard run, the song's big club energy, plus the appeal to larger demographics (i.e., women), simply made "Big Energy" a bigger phenomenon.
Admittedly, my argument was largely based on being an older, jaded rap fan that witnessed perennial disappointment over award shows, (see: Maklemore over Kendrick or, dare I bring it up, Taylor over Beyonce), and that I considered both of these songs rather vapid and uninteresting to someone who usually-but-not-always leans toward being a more highbrow, lyrical/miracle/spiritual old school purist rap fan.
To me they were opposite sides of the same cool-and-all-just-not-for-me coin.
#OldestKidFaces doubled down on the oversexualization aspect of the song, seemingly coming from a place of higher morality. I suspected he'd be less concerned over a man rapping content of an oversexualized nature, so stopping just short of calling his opinion potentially misogynistic, I countered with the often cited, "well-men-have-been-oversexualizing-forever-and-woman-want-to-be-able-to-do-it-too-and-that-makes-them-feel-empowered" argument. 
Those points pretty much canceled each other out. This hearty debate was at an impasse.
Then he launched an unexpected attack.
"It's messed up because Kodak's song was about something."
"Yeah, yeah…" (playing back the snippets of lyrics I could remember in my head— something, something jacking cars…) "What, exactly?"
He explained to me that the song is about a friend that Kodak Black felt betrayed by. How he had been hurt by this betrayal. How their childhood friendship had deteriorated when something came between them and his former homie, "switched." As some of the lyrics demonstrate:
I put it in for you, I spin for you

Whatever you with, I'm with it

How you gon' cross a n—a that rockin' with you?
And part of the chorus…
Damn, my n—a you trippin'

We could've been superstars (superstars)

Remember when we was jackin' cars (jackin' cars)

Now it's not safe for you (safe for you)

You switched like a p—y, lil' b—h

Damn, my n—a you trippin'

We could've been superstars

Can't help it, now I'm reminiscing
OK, so it's aggressive. And certainly not the poetic masterpiece we might hear from a Nas or a Kendrick. But nonetheless, the important part was that I would never have known about the personal conflict at the heart of this song if I hadn't engaged my son in this discussion.
Inspired, I saw this as an opening.
"Speaking of which, whatever happened with you and your friend X?"
Exactly what was said next is private, but also not important. What is important is how I tapped into my son's passion for today's music, to a) better understand it, and b) better understand my son.
I often speak about the intersections of Hip Hop and education. There are hundreds of examples I could give, stories I can tell, results I can share from so many folks doing amazing things to help improve the educational output of our young people through a connection to Hip Hop music and culture.
Many of those programs are based on a principle that the music is essentially a conduit. It doesn't mean classes are spent rapping or dancing (although sometimes, they are). But more so, the music and its associated culture are touchpoints where each party can meet. When teachers — or parents — take the time to better understand those touchpoints – even if we despise what they look like on the surface – we have a lane that we can use to engage our young people.
I really came to understand this when I interviewed Dr. Lauren Kelly on my podcast, "Hip-Hop Can Save America!" Dr. Kelly teaches at Rutgers University and runs the Hip Hop Youth Research and Activism initiative, a brilliant program that I'm honored to be involved with, that encourages high school and young college students to look at Hip Hop through a more sociological lens.
Dr. Kelly described a time when she was interviewing young people about their connection to the music they loved. One of the songs at the time was "Birthday Song," by 2 Chainz, perhaps known best for its chorus, which includes the following refrain:
All I want for my birthday is a big booty ho (true)

All I want for my birthday is a big booty ho (tell 'em)

When I die, bury me inside the Gucci store (tell 'em)

When I die, bury me inside the Louis store (true)

All I want for my birthday is a big booty ho (yeah)

All I want for my birthday is a big booty ho (2 Chainz!)
(Again, not exactly Andre 3000-level literature, but let's not lose focus.)
After listening to the song and playing the accompanying video which has the exact imagery one might imagine, including well proportioned women in various states of undress cavorting around a raucous birthday party. Here's what she told me:
"OK, I know I'm a little bit uncomfortable about the song and the chorus and there's a lot of women's bodies, a lot of times you don't see their faces… There's a cake in the shape of a woman's body... So I asked "Why do you like this?" and they said "Well, we relate to it." So I asked, "What exactly are you relating to? Does this reflect your life? Is this what your life looks like?" They said, "No, no. But it's what I want to have." So I kept posing questions, I asked, "What exactly…? Do you want your birthday to look like this? Is this what you aspire to?" And they said, "No… We don't really want THIS this. But we want the power to have this if this is what we wanted." 
---
Dr. Kelly speaking on how she engaged students using songs as "text," including 2 Chains' "Birthday Song"
---
Basically, as she explains, we tend to THINK our young people want to live in a lawless, misogynistic, violent, material world. We think they gravitate toward this imagery and want to clone it into their lives. 
They don't. They just feel powerless. And that desire for power – for control, for freedom, for justice perhaps – manifests in these ways.
It makes sense. We all acted out in our own ways as kids. I'm sure we can all find examples from our past that, on the surface, in that moment, made it seem like we had no guidance. No morals. No home training. Like we were chasing the wrong things. The wrong people. 
Was that our goal? Our aspiration? Did we all end up as heathens? Criminal minded drains on society? 
No. We were searching for ourselves. And while the stakes are higher in some cases, or the disconnect chasm ever larger these days, the principle remains the same.
"Children do not need us to shape them. They need us to respond to who they are." — Naomi Aldort, author
Us older Hip Hop fans like to lament at how "back in our day" folks would rap about selling drugs, now they just rap about taking drugs.
(As if the former was somehow better?)
But at the core of both of those eras' lyrical output are the same thing: young people, enveloped in a world where illegal commerce, violence or self-medication are all perceived as necessary tools to survive.
So while I can't relate to some of "today's music," if I recognize my kid is connecting to a song filled with depressing undertones and talk of self-medication, I'm not going to go on social media talking about, "Waahh, this stuff's not real Hip Hop." I'm going to take my kid to therapy. Or at the very least, find out how to talk to them in a way that meets them where they are.
Music has always been one of those ways, and no genre presents as much opportunity to learn more about our young people than Hip Hop.
This knowledge goes both ways. As I mentioned above, I recently spoke at The Science of Hip Hop: Exploring STEM/CS through Beats and Lyrics, an event held at Texas State University which led high school students through a gauntlet of exhibitions which used Hip Hop references to help do things like demonstrate the scientific method, explore technology's role in society, cultivate an engineering mindset, help establish/re-establish a math identity for students, and more.
(Shouts to former Hip-Hop Can Save America! guest Dr. Raphael Travis for putting this event together.)
I also gave a talk during this year's Chattanooga Hip Hop Week and Summit, echoing many of the sentiments I'm sharing here. What I found particularly impressive about that event was the focus on teaching young aspiring artists about the ins and outs of the business side of entertainment. Free panels were open to the community, led by industry powerhouses, all aimed at arming folks with the tools to better navigate the financial and legal aspects of making music.
It's these kinds of initiatives that help young people more than they realize. After all, any aspiring artist that attends such sessions that doesn't go on to become a successful artist (as most won't) still receive transferable skills and life lessons along the way, regarding finance, business, marketing and more.
Now I don't know if those same folks would have attended a free, but more traditional finance, business and marketing seminar, but I sure know they were at this one.
I even remember my own interactions with my dad. A distinguished professor of Sociology, pops was a die-hard jazz and blues connoisseur. He didn't have much love for '80s rap, but there I was, pursuing my own desires to be a Hip Hop producer and MC. And while he gave firm but fair advice ("If you can't make more doing what you like than what you can earn at McDonalds, you need to be working a 'real' job."), he never fully discouraged me. In fact, we would have healthy debates of our own, debating the musicality of rap. I'd gift him Guru's Jazzmatazz albums and send news articles like the ones I post at the beginning of these newsletters. And one day we found our own middle ground after he came to see me and a friend perform in a park in NYC. I had a song, built off of a Sam Cooke loop, that he found to be quite clever, production-wise and lyrically. I can still remember reciting it acapella as he drove me somewhere, feeling so proud that I could make him — the brilliant academic wordsmith — smile wide with words that I created.
So many of our conversations branched off from those discussions, into his sociological purview, creating core memories that continue to fuel and inspire my own work studying, documenting, and advocating for Hip Hop and the brilliant people associated with it.
And it's what inspires conversations like the one with my son that started this whole essay.
On that note, bringing it full circle, Latto made news again recently when, during her opening set at a Lizzo concert in Atlanta, she brought Georgia gubernatorial candidate Stacey Abrams onto the stage.
I can't think of a better icebreaker to help spark a discussion with young folks about the upcoming midterm elections or politics in general — discussions that NEED to be happening.
Now, I'm no child psychologist, but I've been a parent for decades, and interviewed a plethora of folks who work with young people through Hip Hop-influenced approaches.
I've learned that we don't have to fully immerse ourselves in their world. But we shouldn't dismiss that world either. We just have to care enough to try and meet them where they are. We should pay just enough attention to current Hip Hop and entertainment headlines to look for nuggets of information, those openings that could lead to dialog.
As parents, we don't have to always agree. We just need to try and understand.
— Manny Faces
---
Make sure you're subscribed. It's free!